Offensive Player of the Week
WR Kenny Britt
8 Catches | 230 Yards (75 YAC) | 1 Touchdown
Britt was key in the Titans close win over the Colts, a game in which starting Quarterback Chris Henderson left after throwing just 5 passes. Trent Edwards quickly came in and made Britt his favorite target and the Titans opened the season with a big divisional win. The explosive wideout will have to continue to separate from Corners as Henderson will miss at least the next 3 weeks leaving the weak armed Edwards as the starter.
Honorable Mention
:
HB Bull Griggs |
QB Robert Griffin III |
QB Blaine Gabbert |
HB Ryan Mathews |
QB Boston Mallett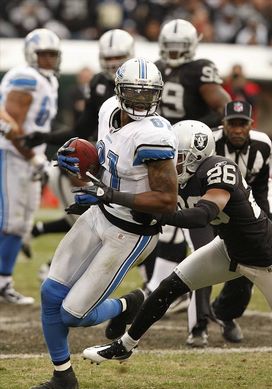 Offensive Player of the Week
WR Calvin Johnson
9 Catches | 230 Yards (124 YAC) | 2 Touchdowns
Megatron is back at it posting a career day in Oakland as the Lions put up 54 points on the Raiders. The Lions offense already looks to be primed for another historic season and Johnson is the go to guy. With his size and athleticism unmatched around the league, expect his name to be in the mix for this award every week.
Honorable Mention
:
QB Matt Stafford |
HB Chris Johnson |
HB Ryan Williams |
QB Tony Romo |
WR Dez Bryant
Defensive Player of the Week
LB DeVonte Holloman
2 Tackles | 2 Sacks | 2 Interceptions
The new look New York Jets struck first in the AFC East with a defensive manhandling of the Patriots supposed explosive offense and Holloman made a mark in his first career GZL regular season game. The former Gamecock had Mark Sanchez' number all day and the 4th rounder not only had one of the best rookie performances, but was likely the reason the Jets came away with a narrow 6 point victory.
Honorable Mention
:
CB Jonathan Joseph |
CB Dee Milliner |
CB Darrelle Revis |
LB Shawne Merriman |
LB Patrick Willis
Defensive Player of the Week
DE Ryan Kerrigan
7 Tackles (3 TFL) | 3 Sacks
Plenty of "sack" action in the NFC in Week 1 with 4 players recording 3 sacks apiece. Kerrigan had a rounded day adding 3 tackles for a loss and 4 other tackles as he displayed good support in the run game. He helped the Cowboys defense welcome the league's 1st overall pick Geno Smith to the GZL with a dominant performance as the 49ers only points of the day came from their defense.
Honorable Mention
:
LB Daryl Washington |
DE Robert Mathis |
DE Justin Houston |
LB Barkevious Mingo
General Manager of the Week
Corey Smith
The highly anticipated return of Mr. Smith to the Madden world and his first victory in his first game. He out-coached GM Matt Spencer en route to a 19-13 victory to prove that he has not lost his touch. Many of the offseason predictions were hyping the quick turnaround that the Jets made this offseason under the watchful eye of Smith and it is already apparent that this is a team that will be great this season as well as the future.

Welcome back Corey!